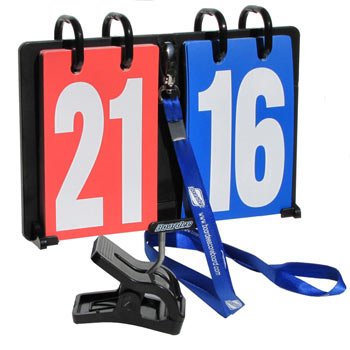 view larger image
Portable Boardee Scoreboard $32.95 each (#BOARDEE)
11-20 $30.95 each
21+ $28.00 each
NEW!! This new item is in HIGH DEMAND and will be in stock very soon. We have already accepted many orders, so place YOUR order now. They are expected to sell very fast.
Clips on to anything like a beach chair, ball cart or referee. (First ever)

Stores a stats/pool sheet on its back. (first ever)

Hangs from a lanyard. (first ever)

Stable scoring cards in the wind. (first ever)

Openable card hangers, Double-sided scoring cards, Numbers go up to 30, Openable card hangers, Easy to use, carry and store.

Dimensions: 7.1 x 0.3 x 5.1 inches ; 13 ounces
Click Here to see the full description of this amazing new product!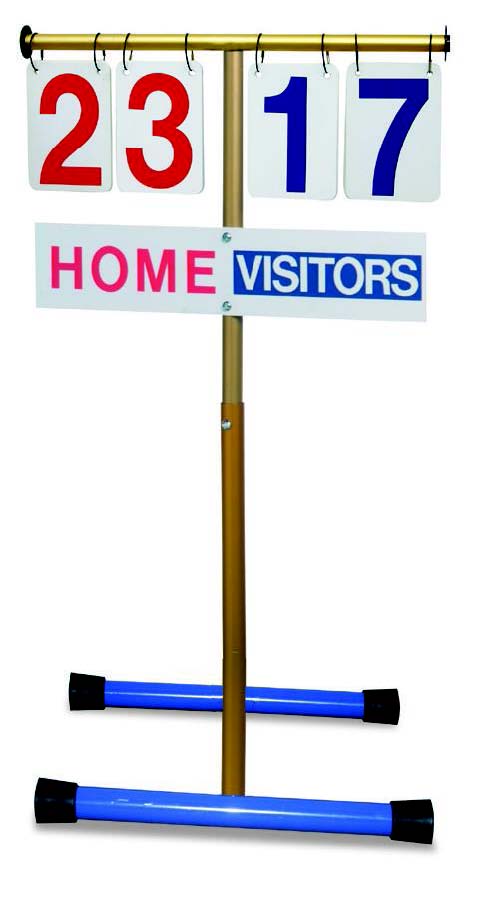 view larger image
SCORE IT® $99.75 (#E6518)
PORTABLE SCORE STATION FOR ALL SPORTS! The SCORE IT® is lightweight, portable and can be assembled for use on the floor, table, field or beach. perfect for tournaments of all types. 0-99 scoring. 4" x 6" plastic numbers. 3' tall.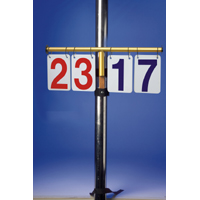 view larger image
UPRIGHT SCORE IT® $84.00 (#E6519)
The UPRIGHT SCORE IT® is designed to attach to any upright. perfect for club tournaments or recreational play. highly visible 4" x 6" tough plastic numbers. Scores up to 99 for each team.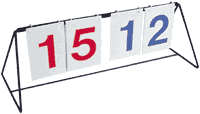 view larger image
SCORE IT® JR. $49.95 (#E6517)
Built To Withstand Irate Coaches! Tabletop portable scoreboard that will not break! Steel frame with rugged plastic numbers. Scores up to 99 for each team. Bright red and blue silkscreen numbers. A great Budget Saver!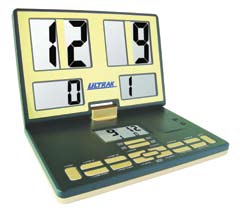 ULTRAK T-400 LAPTOP MATCH PLAY SCOREBOARD $295.00 (#E7574)
Match Play Volleyball Scoreboard with LCD displays. Game score feature 4" digits. Match score features 2" digits. Scoreboard swivels to allow viewing from any angle. Easy to use control panel. Unit folds down to compact 13 x 81Ú2 x 17Ú8. Includes case. 1 year warranty.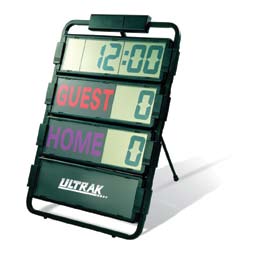 ULTRACK WIRELESS SCOREBOARD $590.00 (#E7570)
Revolutionary Portable Scoreboard! Radio frequency remote control scoreboard, controllable and viewable from 150 feet away. Runs on four D batteries - no cords required. Programmable count-up/down game time with range to 9 hrs., 59 min., 59 sec. Four-inch LCD digits display scores for two teams up to 199. Free standing on floor or table or wall-mounted. Dimensions: 20" wide x 30" tall.