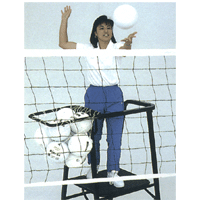 view larger image
COACH IT™ $565.00 (#E6536)
PERFECT YOUR TEAM DEFENSE!
Coaches can now drill their teams on defense from a safe and realistic position. The COACH IT™ eliminates the use of dangerous boxes, tables, chairs and ladders that coaches have been using for years. The COACH IT™'s construction puts you in a game-like "hitting" position while still allowing you to observe and instruct your team on defensive skills. The ball holder frame bag attaches easily to the arm of the COACH IT™. The net ball holder is safer and can be used as a separate ball bag. The shallow construction makes balls readily available for rapid fire drills. Folds flat for storage.
Can also be used as a free standing official's stand.
Additional COACH IT™ Ball Holders can be purchased separately.
This item must be shipped by truck.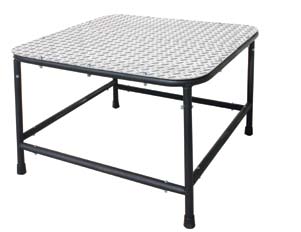 view larger image
COACH IT™ BENCH $259.95 (#E6537)
Eliminate dangerous tables and chairs on which to stand. The economical COACH IT™ BENCH is a strong, stable platform coaches can use to conduct drills from a higher, more game-like hitting position. Constructed of steel and aluminum. Folds for easy transport and storage. 28" wide x 28" deep x 18" high.
Not to be used as a Jump Box or PLYO BOX.