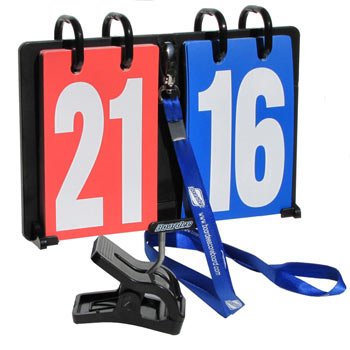 Clips on to anything like a beach chair, ball cart or referee. (First ever)

Stores a stats/pool sheet on its back. (first ever)

Hangs from a lanyard. (first ever)

Stable scoring cards in the wind. (first ever)

Openable card hangers, Double-sided scoring cards, Numbers go up to 30, Openable card hangers, Easy to use, carry and store.

Dimensions: 7.1 x 0.3 x 5.1 inches ; 13 ounces

Quantity Pricing: (11-20 -$30.95ea, 21+ $28.00ea)
BoardeeTM is no ordinary scoreboard! BoardeeTM is specifically designed for outdoor sports as well as indoor sports. BoardeeTM is perfect for use by referees, players, coaches, event organizers, and spectators to keep and display the score during games. BoardeeTM is flat, compact and convenient, yet it sacrifices nothing in terms of visibility. Other scoreboards are triangular and bulky. BoardeeTM is small and light enough to be carried anywhere and its numbers are big enough to be seen from far away. But that's not all! BoardeeTM is designed to work in the wind. It has card holders so that windy beach conditions don't change the score. BoardeeTM can also store pool sheets, so there is no need for a clipboard. With BoardeeTM, you no longer have to rearrange the scores at every side switch! When the teams switch sides, just rotate BoardeeTM with a flip of the wrist and the scores switch sides with the teams. BoardeeTM can be used for most sports like indoor/outdoor volleyball, table tennis, tennis, wrestling, street basketball, karate billiards, badminton, soccer, beach tennis, etc. Boardee's features are great for outdoor and indoor amateur/local competitions as well as professional competitions. It is also a great product for the practices. Coaches can use Boardee in their practices, too.